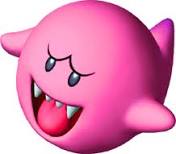 Pink Boos are a variant of Boos. They are stronger and crankier than normal boos. The Boos are a elite of King Boo. Their dirty work includes stealing items. However these boos are even more timid than regular boos. Pink Boos are also much rarer than a common boo. However pink boos appear as enemies in some online Mario games.
Appearences
Edit
| Game | Appearance Type |
| --- | --- |
| Mario Party | Pink Boos steal stars and items from other players. |
| Internet Mario Games | Basic Boo enemies. |
Ad blocker interference detected!
Wikia is a free-to-use site that makes money from advertising. We have a modified experience for viewers using ad blockers

Wikia is not accessible if you've made further modifications. Remove the custom ad blocker rule(s) and the page will load as expected.