Racoon Goombas
are part of Bowser's Army. They are members of the Goomba Family as well. The difference is that they have a power up of a Racoon Leaf and now can float like a Paragoomba.You have to kill the enemy first to get it.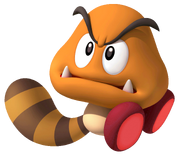 Abilities
Edit
The Raccoon Goomba possesses the ability to float in the air.
Apperances
Edit
Super Mario 3D Land
Ad blocker interference detected!
Wikia is a free-to-use site that makes money from advertising. We have a modified experience for viewers using ad blockers

Wikia is not accessible if you've made further modifications. Remove the custom ad blocker rule(s) and the page will load as expected.